Andre Godwin Walker
To a Rose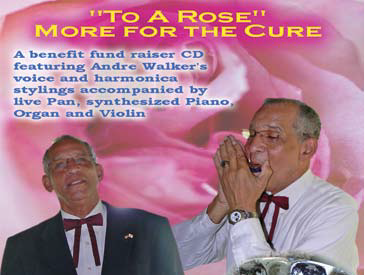 André Godwin Walker was born on October 24th 1938, and was musically inclined from the tender age of 7 when his parents gave him a harmonica as a Christmas present. He was the lead treble soloist for St. Mary's College Boy's choir in the 1950's , and was a member of the San Juan R. C. Church Choir, St. Cecilia Choir, Marionettes Chorale, The Chantwell Singers and "The Friends of Music" , and still sings with the Sacred Heart R.C. Church Choir. He has been involved for most of his life in humanitarian, charitable and voluntary work. As a registered blood donor of the American Red Cross he has received "The Champions for Life" and "Type O Hero" identification cards. And as a member of the the Lions Club of St Augustine, he was awarded "Lion of the Year" plaques on two occasions.
André is married to Grace Catherine, his demure and devoted wife of over forty nine years, and they have three children, eight grand children and one great-grand child. His lifelong dream of playing his harmonica to the accompaniment of steelpan music has come true in his "To a Rose" CD.
This CD is dedicated to his wife to help defray some very substantial and economically crippling medical expenses for her emergency triple by-pass surgery last year. These CD's can be purchased at a cost of $100. To support Andre and Grace, please call 675-4264, or 683-9502.
Deo Gratias.