AQUAPONICS.. a hobby or a necessity?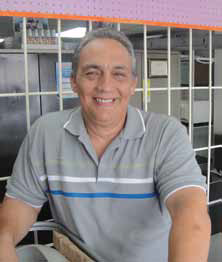 In T&T, we produce less than 1% of the food we consume. The concept of a few producing in large quantities for the consumption of many is an outdated, unsustainable system. We must take responsibility for our health and well-being. This holds true at all levels of our existence, but the need for clean potable water and healthy food must be given the priority it deserves.
The concept of urban food production is expanding throughout countries all over the world. People are encouraged to grow food on rooftops, backyards, empty rooms in homes and empty lots of land in residential areas, to mention a few. Some of the advantages of urban food production are:-
Fresh nutrient rich food.
To better crop security from thieves.
Better food security in the event of natural disaster as a
result of wide production distribution.
Bring neighbours together in common interest.
Increased physical activity leading better health.
Money saving on food and medicine.
Growth with NO artificial fertilizers, pesticides and
fungicides. No toxins of any kind.
These food production systems must by their very nature be low in its demand for resources and maintenance. Aquaponics has emerged as one such system as it is a closed loop system meaning that it produces no waste and has a very low dependency on external input for its survival. Some of the advantages of Aquaponics are:
It use only 10% of the water normal agriculture use to
achieve the same results.
Minimum maintenance required (can be left
unattended for days).
Can be done indoors or anywhere for that matter.
Easy to learn and master.
Can be scaled up or down to any desired size.
Systems can be built from the widest cross section of
materials possible encouraging recycling.
Aquaponics is the oldest method of life production system chosen by God, to feed the earth, so no one can claim to have invented it.. I think it was Albert Einstein who put it best when he said "simplicity is the ultimate sophistication" thus rendering it attainable and maintainable, the two qualities necessary to make it durable.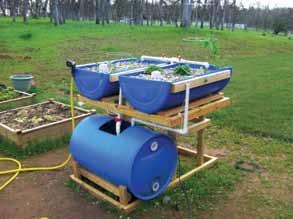 Food should be consumed almost immediately as it is harvested, so that our bodies can absorb and maximize all of its nutrients. Nowadays, as a result of storage, we consume food where all the ingredients have been neutralized, as a result, we attempt to get the necessary nutrition from bottles of tablets.
This system has worked well for the people that produce these products, but inevitably we the consumers has paid with our money, health and finally our lives. Let's be
clear, nothing is absolute so don't misunderstand my statements, there are many good products on our store shelves today, but like sleep there is no substitute for fresh, clean and uncontaminated foods. So as you have taken control of your living by having a financial income, vehicle, home and such, take control of your
life and command your nutritional income, even if only partially.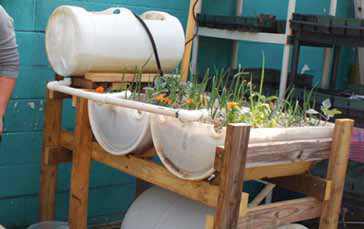 Aquaponics is a system that mimics nature, it starts with fish whose waste is utilized by plants, and this results in
the cleaning of the water to be returned to the fish. The cycle is repeated and both fish and plants for eating can
be produced on a continuous basis. Working with these systems has been found to be very relaxing and a great
deal of satisfaction can be realized by producing one's own food. Once set up, the routine of feeding the fish and checking the system becomes easy and requires very little time. Production cost of the end product is very low, and small systems can produce more food than a person can ever hope to eat so the extra can be sold or given to someone, the choice is yours.
Larger community systems can be done by schools, organizations, churches, large companies on their buildings roof tops or unused floors in multistory buildings, the locations are only limited by your imagination. Many hotels are now looking at the prospects of these systems as a means of introducing indoor living spaces with the sounds of running water and plant life for their guests and at the same time producing clean fresh food for its kitchen. These are but a few of the features that will shape the face of food production in our changing world and Aquaponics is very much a part of our future, but the future starts now.
Let us plant the seeds of the future together.