Eco Life – Turtles
Why are Leatherback Sea Turtles Endangered ?
Watching the turtle rise out of the tides onto the beach gives one the sense of meeting something ancient and rare, it is mysterious and wondrous.
Characteristics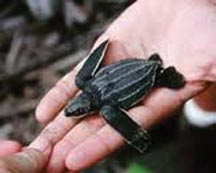 Leatherback sea turtles are the fourth largest reptile and the largest sea turtles in the world. The main distinguishing feature is the rubbery skin which is similar to leather .
Another striking feature is their long front flippers, which has no claws or scaled and can grow up to a length of 8 feet. They also possess spines in the throat, which help in
swallowing food, and have sharp-edged jaws with toothlike points. An average adult leatherback sea turtle can grow to a length of around 3-7 feet and can weigh as much as 2,000lbs.
They feed almost solely on jelly fish and travel further than any other marine turtle—across entire oceans—migrating annually for food and to lay their eggs. They also hold the record for the deepest dive of marine turtles, plunging to depths of 1,200 meters to feed. These poor creatures may face extinction since it is estimated that only 1 in 1000 Leatherback hatchlings survive to adulthood, due to the following reasons :-
Reason # 1 ~ Nesting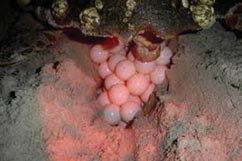 Leatherback sea turtles never leave the water, except for the females, who usually nest every two to three years in beaches with soft sand and shallow edges. On average a female leatherback sea turtle can lay around nine clutches of eggs (one clutch means approximately 100 eggs). It takes almost 60 to 65 days for the eggs to hatch. The front flippers are sometimes as long as their bodies which may vary between 2 to 3 inches and they weigh around 40 to 50 grams.
Their nesting areas have been taken over by human encroachments and recreation development like hotels, resorts on beachfronts. Artificial lights from neon signs confuse the poor creatures and disturb their nesting patterns, since turtles navigate using the reflected light from the moon between land and water.
Reason # 2 ~ Poaching
Turtle eggs and meat have become a delicacy in many countries. The sea turtles are at a loss on land due to their myopic vision and wobbly gait, and since they do not possess any poisonous darts or claws to protect their eggs or themselves, suffer a cruel death at the hands of poachers.
Reason # 3 ~ Fishing
The sea turtles are caught in shrimping vessels that use trawl nets that drown these poor creatures.
Reason # 4 ~ Predators
One female sea turtle can lay hundreds of eggs in one nesting season. But only a few survive under 'natural and favorable' conditions. These eggs are preyed on by crabs, dogs, birds and humans as they make their run towards the sea. By the time they reach the shallow water, half of them have been gobbled up by their predators on land and few then are eaten by fishes in water. Only a few lucky ones win the battle of survival and live past their 1st birthday!
Reason # 5 ~ Tumors
Sea turtles suffer from a disease that is known as Fibropapilloma Tumors, which can grow as big as a cauliflower on the soft body parts of the sea turtle causing a lot of trouble and eventually death to the creature. If the
tumor size or number of tumors does not kill the animal, then it is starvation that leads it to its death. This starvation is due to tumors growing on its eyes, blinding the turtle so that it is unable to find its food.
Reason # 6 ~ Life Cycle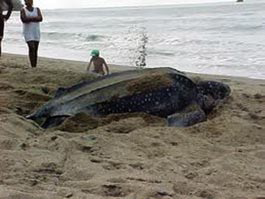 The sea turtles take more than a decade to complete their juvenile stage and reach maturity to start breeding. Pollution, long lines of fishing fleets, high seas, even tumors
etc. all cause untimely death of these massive, beautiful species.
Leatherbacks travel to the Caribbean to nest because they reside in cooler latitudes of the United States, Canada and the eastern Atlantic Ocean, which are far too cold to provide adequate nesting conditions! Thus, Caribbean islands, including Trinidad and Tobago, are very important to the survival of these ancient creatures. Sadly, many of
the leatherbacks that come to our shores laden with eggs are killed. When an adult female is killed, thousands of eggs (which would have been laid in future years) are also
lost.
The lifespan of leatherback sea turtles is still unknown, as most of them become victims of human activities, pollution and predation during the early stages of their life. Many of them die due to the ingestion of plastic bags, mistaking it for jellyfish, which is their favorite food. Hence, this turtle is now an endangered species and efforts are underway to protect them. It is necessary to create awareness among the public, regarding the conservation of these beautiful creatures.
What can you do to protect sea turtles in Trinidad & Tobago?
Don't purchase sea turtle products at home or
abroad (turtle shell items like jewelry, meat and shell
decorations). Nearly all countries of the world,
including Trinidad and Tobago, prohibit the import and
export of endangered species products.
Don't discard plastics and other refuse at sea or on the beach.
Watch for sea turtles at sea, they can be struck and
killed by boat propellers and wind surfers.
Check fishing nets frequently so that sea turtles are not
ensnared and drowned.
Don't harass sea turtles at sea or on land. Don't disturb
turtles in feeding areas, shine lights on nesting turtles,
or ride turtles.
Encourage regulations requiring that lights not shine
on nesting beaches.
Don't drive vehicles or ride horses on potential nesting
beaches. These activities crush incubating eggs, and
tire ruts trap hatchlings as they crawl to the sea.
Don't leave lounge chairs, sailboats, and other
obstructions on nesting beaches at night.
Remember, it is illegal not only to kill, but to pursue
or molest any sea turtle (that is, any egg, hatchling or
adult) on land at any time. It is also illegal to capture
at sea or offer for sale any sea turtle (or turtle product)
during the closed season under the Fisheries Act:
March 1st – September 30th.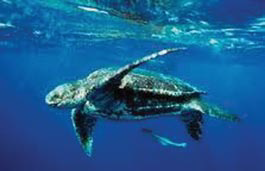 I hope this article has encouraged you to take a stand for preservation of these massive beautiful giants which can be found nesting at Maracas, Las Cuevas, and Blanchisseuse to the more secluded beaches of Paria, Petit Tacarib, Grande Tacarib and Madamas on the North Coast; to Matelot, Big Bay in San Souci, and Guayamara in Toco.
There's also Fishing Pond and Manzanilla in eastern Trinidad; and Black Rock, Turtle Beach and Englishman's Bay in Tobago.
But the best places to see nesting leatherbacks in Trinidad and Tobago is on the protected and quiet beaches of Matura and Grande Riviere.
Hopefully, these beautiful creatures will be around for hundreds of years, so that even your grandchildren's children will enjoy having a look at a live one instead of pictures in a book.