Hairs it for Clem Lue Yat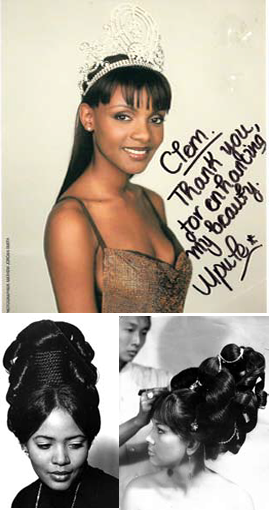 Mention his name and immediately one thing comes to mind – hair.
His name is also a major fixture in the world of international beauty pageants, international beauty awards and hair innovations. He is Clem Lue Yat.
Born July 31, 1945, the fifth of nine children of Samuel and Sue Len Lue Yat of Pao On, Guang Dong, China, Clem's career started growing at age 13 when he demonstrated his creative abilities.
He quickly built up a clientele, but with the need for formal training, so he took to London at age 17 where he did hairdressing courses in London, England. On his return, Lue Yat opened his first hairdressing salon in Port-of- Spain.
It wasn't long before, Lue Yat started provided hairdressing services to the 'Who's Who' of Trinidad and Tobago – local beauty queen contestants and visiting celebrities. He also did platform work in other West Indian countries demonstrating hair products represented
Oscar Francois Limited. After capturing the local market, in 1970, he decided to take talent internationally when he immigrated to Montreal, Canada. "There, I entered a High Fashion hair styling competition and came first runner up. After six months, I relocated to New York and opened up a salon in Brooklyn in the heart of a West Indian neighborhood on Washington Avenue and then on 1260 Flatbush Avenue," said Lue Yat. He credits the late Gospel Singer, Mahalia Jackson for his forage into the hair world. "She was so impressed by my work, she advised me to start that 'doing hair' in America," said Lue Yat. Hairs it for Clem Lue Yat With the 'word of mouth' about his hairdressing business, Lue Yat's clients soon expanded. At the same time, the largest "black" hair preparation company "Johnson Products of Chicago" hired him to demonstrate its products at Hair Shows throughout the USA, broadening his horizons in the Hair Industry.
Powered towered greater success, Lue Yat moved from the high fashion hairstyles in the Sixties and Jherri Curls in the Seventies towards creating his own unique Interlocking Hair Weaving System in the Eighties, and then his Wrap Net Weave System for severe hair loss in the nineties.
The latter earned him the title "The Master Hair Weaver Of The World", which followed his appearances in leading US "Black" hairdressing magazines and at major annual Hair Shows in the USA and England.
"My platform work exposed my skills to other hairstylists who are baffled that an Oriental (believing that I was from Korea or Japan) was so versatile in handling all lengths and types of hair for both sexes, and in particular 'black hair'. When the questions arose, I would explain that I was from Trinidad and Tobago where the ethnic makeup consists of just about every race and that I had been 'playing' in all types of hair for a long time," said Lue Yat. He is also proud to be a Trinbagonian who has done the hair of winners of Miss Universe and Miss World pageants, Miss New York State as well as other West Indian beauties, Soca Artistes and US stars.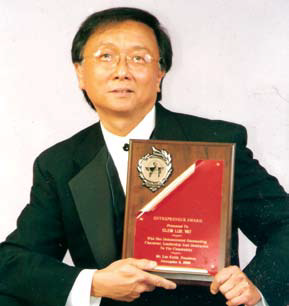 "I am most proud of doing the hair of the 1999 Miss Universe Mpule Kwelagobe as well as that year's first runner up Miss Philippines," said Lue Yat, who is proud to be the holder of many local and international awards including: Miss Trinidad & Tobago Lifetime Achievement Award (New York) – 2007; Trinidad & Tobago Beauty Trade Show – 2007; International Institute of Trichologists (Lifetime Achievement Award)- 2003; Hairweb.com (Entrepreneur Award) – 2000; Salon Preneurs World Network Association (Excellence Award) – 1996; Toronto Le Verette Beauty Show (Achievement Award) – 1993; Trinidad & Tobago Hair & Beauty Trade Show – 1992 and
The Caribbean International Center for Hair Care, Inc. – 1989. In this decade, many hairstylists have been trained by Lue Yat in by Peter Campbell 15 his hair weaving and hair styling techniques and more recently, Hair Extensions using micro cylinders without using glue or chemicals, for which he has mastered.
"Even as our population ages, I have been paying attention to the needs of the baby-boomer, by offering solutions to hair loss problems from aging or illness," said Lue Yat.
"I now specialize in hair units for men and women to enhance their self confidence."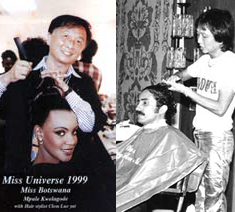 To further extend his services as a Hairstylist and a Tutor, Lue Yat has designed tools and equipment to make hairdressing easier and is due to launch his first instructional DVD in his Hair Extensions Technique. Today, Lue Yat operates in between Brooklyn, New York and Petit Valley.
Lue Yat gave some much needed tips to clients: "They should avoid using glue to bond hair as the chemicals used to remove the glue cause loss of hair. Cancer patients who have experienced hair loss should also avoid hair weaving as the scalp might be tender. They should use only wigs."
Although he continues to travel the world teaching his techniques, he maintains his Trinidadian roots and still makes time to give back to his country by sharing his expertise with local hairstylists and the Government sponsored Beauty Culture classes. "By sharing my skills, I want to ensure that upcoming hairstylists empower themselves to step out of their boxes and operate as professionals with the client in mind, ready and equipped to handle any technique in hairdressing and beauty culture," said Lue Yat.