Kenny J…A Christmas Treasure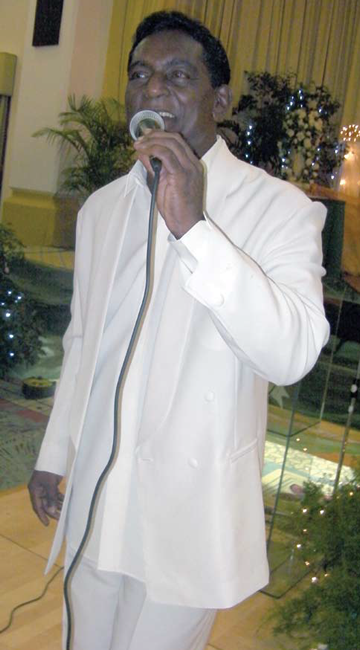 The season and the insanity starts just around October. When radio DJs start wiping the cobwebs off of their Christmas CDs and organizers start going through their Blackberry contact lists looking for possible performers, one name invariably appears. "If they're looking for a name for the Christmas season, they call my name," says Kenny J, soca parang, ballad and calypso singer.
When we sat down for our interview, dressed in an earth green polo and jeans, he had just come off of a plane from Tobago less than an hour earlier after a gig. Within the next three hours he would be back on stage in the CNMG compound for their "The Gathering 6" charity event.
"Christmas time, that's how it goes," he says. With hits like "Brush" and "Alexander" Kenny J is a man in demand, playing full concerts to private gigs for government ministries, businesses and family functions. His brand of music, soca parang, came about because he felt the general public didn't always appreciate and understand the traditional parang music sung in Spanish. So, he sang in English, about topics we can all relate, put a little bit of a calypso beat and voila…. soca parang. It's not his full range though, he says. Kenny J first entered the musical arena as Kenwrick Joseph, a police officer in the community policing unit
back in 1987. He won the Police Calypso Monarch that year then branched off into calypso, receiving a special mention as the most promising calypsonian of
1989.
"Even then no tent wanted me," he says. "I was very unpopular because I was encroaching on others' territory. It wasn't very encouraging to be a calypsonian
in those days because of the things you faced."
But eventually he was accepted into a tent and went on to the semi finals of the calypso monarch competition. In all he's made it to the Calypso Monarch finals four times ranking as high as second place in 1990 singing "Addicted to Sweet Soca" and " Leave She Alone".
"I came into this thing to be popular. Back then when you reached the semis people knew who you were, they knew your song. Now you can be the calypso
monarch and no one knows your name or what you sang," he quips.
It's just one of the many issues he has with the calypso industry in its current state.
But if being popular was his goal he's certainly achieved and surpassed it. During the course of the interview at the restaurant, no less than 10 people have waved to him or shouted out, "Kenny J boy!" The house pianist grabs him and pulls him aside, "Kenny J boy you know how long I looking to talk to you?" After about
two minutes of what seems like an intense business transaction, the man hands him a business card and vigorously shakes his hand in thanks.
"It happens," Kenny J smiles. "People always come up to you , you just have to learn how to deal with it. Most times they're polite. The real excitement is when you're on stage. But when you're on stage they can't really interact with you in that way so some take it out on when they see you in public. Sometimes I'm with my
wife and a person will come up and hug me. You just have to deal with it."
I asked how his wife deals with the fame and the fans, but he corrects me, "You mean how she dealt with it?"
His wife Joan, passed away last year from cervical cancer. She had been diagnosed less than a year earlier and died on December 27. His voice doesn't change much as he speaks about her. It slows a little and he looks away when he talks now.
"Christmas will be a little different without her," he says. "But I've been coping. Usually when I travel I would bring things back for her, now I have no one to shop for really. But In life I accept rather than expect. Too many times in life we expect things and get disappointed."
Even the state of emergency he has come to accept. Many calypsonians grouse over the curfew hours and its effect on their wallet. But Kenny J just performs in areas like his hometown of Siparia or in Pt. Fortin where there is no curfew. He wouldn't say whether he agreed or disagreed with the SOE but one thing's for sure, you won't hear him singing about it.
"I don't make songs that don't last," he says with a straight face. "If I sing a curfew song this year, by next year it won't make sense."
Legacy and succession planning are important to Kenny J. Five years ago when he retired from the police service to pursue singing full time he had to choose between getting a promotion, meaning longer hours
and the possibility of missing gigs and furthering his already successful singing career. He says too many people wait until it's too late to start planning for their retirement. It's a message he gives to his five children,
the youngest of which is 29 years old. Unfortunately none of them seem to be following in his footsteps as a singer. But that's why he's working on building an "entertainment centre" in Siparia to expand on the musical abilities of the young people in the area; from concerts to karaoke he wants to do it all.
While he hopes his centre can revitalize the youth into the music of yesteryear, he recognizes when it's time to move on.
He says, "You hear all these people talking about the old time days and wanting to go back there. Sometimes you have to realize that they are gone. In my days I used to pitch marbles. Nowadays children use marbles to put in the bottom of their aquarium. Likewise we older people can't expect to do what the young people do. We don't always look good doing it."
It doesn't mean that he doesn't want to grow though. Kenny J wants to break into the Jazz arena, already working with names like Ray Holman. "I'd like to perform for that crowd." For now he's sticking to the soca parang. He's brought forward two songs for the Christmas season "The Hole" and "The Handyman" with "Jam Up" and "Almond Nuts" carded for a Carnival release. Chances are you'll be able to hear the new songs and his classics at any number of the Christmas parties he will be at during the holiday season.