Recipes
Lentil-Hot-Salad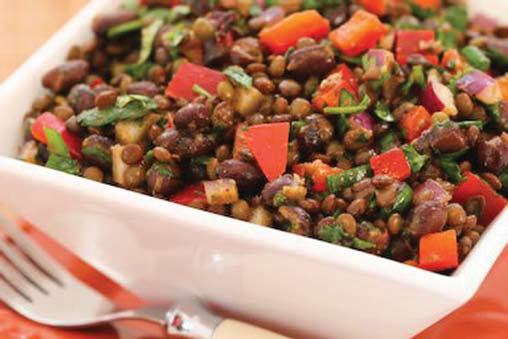 1/2 cup lentils washed and sorted
1/4 cup white rice (long grain is
preferable)
2 good sized carrots, peeled
chopped and diced
2 cloves garlic,
1/2 cup mushrooms, sliced
1 small onion
1 tsp tarragon
1 tbsp white wine vinegar
1/8 tsp salt
Pam or other fat free spray
vegetable oil
Method:
Put the rice in 3/4 cup boiling water and cover. Put the lentils in 1 ½ cups boiling water, do not cover. (You want the beans harder than the rice). Sauté the vegetables, garlic first with a few sprays of oil; add carrots, then onion, add vinegar, and tarragon. Spray more oil, wait 3 minutes, this is on low heat, by the way. When your rice is done, and your lentils are not mushy yet, mix the two thoroughly. Add the mushrooms, and the salt to the sauté cook for 3 more minutes, and then transfer to
large serving dish add your lentils and rice. Mix well, and serve. Serves 6 as a side dish, or 3 as a meal. This is a high carb, high fiber and fat free vegan recipe. (And it tastes wonderful and satisfying).
---
Lentil-Salad
This is a cold lentil salad with a nice, slightly pungent taste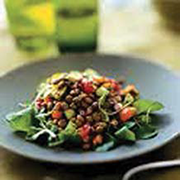 1 cup any type of lentils
Salt or soy sauce to taste, black
pepper to taste
1 tbsp wine vinegar
2 tsp Dijon mustard
2 tomatoes, chopped, peeled (optional) canned tomatoes work
in a pinch
2-3 green onions, chopped
2 tbsp parsley, chopped
Garnish with 2 hardboiled eggs (optional)
Cook lentils in water for 30 to 45 minutes (no salt) Drain. Blend in other things except for tomatoes, parsley and green onions. Chill. Add rest of the stuff. Serve cold with or without hard-boiled eggs.
---
Lentil-Loaf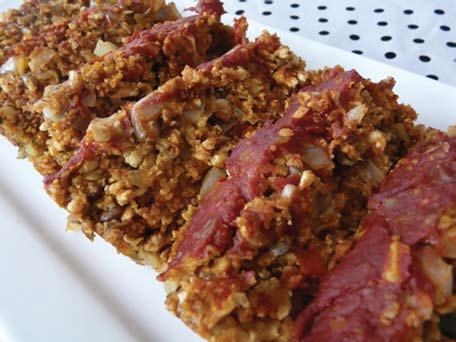 Ingredients:
2 cups dry brown lentils, rinsed
1 bay leaf
1 cup uncooked fine bulgur wheat
1 cup soft whole-wheat bread crumbs
1 egg substitute, beaten
1 tbs ketchup
1 medium onion, chopped
1 clove garlic, crushed
1 tsp dried thyme
2 tsp dried oregano
1 tsp dried tarragon
Salt and pepper to taste
3 tbsp tomato paste or tomato sauce
Method:
Prep: Cook lentils and bay leaf in pot with 6 cups water. Bring to a boil, reduce heat, cover and simmer until lentils are soft and water has been absorbed, about 45 min. Combine bulgur and 2 cups water in a med. saucepan. Bring to a boil, reduce heat, cover and simmer for about 15 min. Preheat oven to 350F. Transfer lentils to a large mixing bowl. Add bulgur, and remaining ingredients except tomato paste 21 or sauce. Mix well with your hands until thoroughly combined. Pat mixture into a 9″ loaf pan. Bake for 40 min. until firm but not dry. During last minutes of baking, brush top with tomato paste or sauce. Let cool for 15 min. Cut into slices and serve warm.
This goes wonderfully with mashed potatoes and your favorite vegetable! The leftovers taste so good in a pita pocket, and if there are mashed potatoes leftover, stuff the pocket with both. Mmmm! Enjoy!
Nutrition Info per serving:
341 calories, 19g protein, 2g
fat, 62g carbohydrate, 28mg
cholesterol, 445mg
sodium, 8g fiber.
---
Lentil Soup
Description
Lentils are a staple in Middle Eastern and Indian cooking and make a thick, rich and delicious soup. They're also a good source of fiber and magnesium and the quickest legume to cook. With bread and a salad, this soup
makes a whole meal. On a cold night, a filling soup like this is perfect nourishment for warming body and soul.
Ingredients
1 pound lentils
1 bay leaf
3 large carrots, peeled and sliced
2 stalks celery, chopped
1 large onion, chopped
2 cups crushed tomatoes (fresh or canned)
2 tablespoons extra-virgin olive oil
Salt and pepper to taste
Vinegar (red wine, cider or balsamic, optional)
Instructions
Pick over lentils to remove
any stones, dirt, or other foreign
objects. Rinse them well in cold
water and place in a large pot
with enough cold water to cover
lentils by 6 inches. Add the bay
leaf.
Bring to a boil, skim off foam,
lower heat, and boil gently,
partially covered, until lentils are
just tooth-tender, 20-30 minutes.
Add carrots, celery, and onion
to the lentils. Cook partially
covered till carrots are tender,
about 20-30 minutes.
Add crushed tomatoes, olive
oil, and salt and pepper to taste.
Simmer, partially covered, until
lentils become very creamy and
soft. Stir occasionally and add
boiling water if necessary to
prevent sticking.
Remove bay leaf before serving.
If you like, stir in a little vinegar
just before serving.