Sorrel

Sorrel Omelette

Ingredients:
1 cup sorrel, cleaned and trimmed
2 tablespoons butter, divided
1/4 tsp salt
4 eggs
1 tablespoon cream
Shred sorrel. In a heavy pan, heat half the butter and add sorrel and salt. Cook for about ten minutes, while stirring. Combine the eggs and cream in a bowl, beating gently. Add the sorrel mixture and combine. Add the remaining butter to a skillet and heat until butter is slightly browned. Add the egg mixture and stir briskly with the back of a fork or spoon until the eggs are evenly spread on the bottom of the skillet. Keep moving the unset eggs around with the utensil smoothly until there is no liquid left. Do not overcook. Shake the pan gently over the heat a few times. Fold the omelette over in half and serve.
---
Sorrel Soup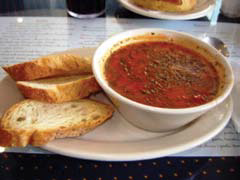 Ingredients:
1/2 pound sorrel
2 tablespoons butter
6 cups water
1/2 pound potatoes, peeled and quartered
2 tsp. salt
1 cup milk
1 egg yolk
Clean and shred sorrel, then chop. In a large heavy pan, heat butter. Add sorrel and cook, stirring, for ten minutes until reduced to about 1/2 cup. Add the water, potatoes and salt. Bring to a boil. Cover and simmer for 1/2 hour. Strain and mash or puree the vegetables. Stir the cooking liquid into vegetables and return to pan. Bring to boil. Stir in milk and yolk. Cook until hot, but do not boil. Serve with French or Garlic bread.
---
Sorrel Ginger Chicken
Brine 6 chicken thighs for at least an hour, clean and chop:
Ingredients:
a bunch of sorrel (stems and all)
1 1/2 to 2 inches of ginger
some Green Garlic
a few stalks of celery
Brown chicken then layer with the veggies in a pressure cooker. Add some red pepper flakes about 1/3 cup water / broth / or diluted brine.
Cook for 8 minutes at full pressure.
Cool to remove lid immediately serve over brown rice.
---
Carrot Sorrel Juice
Ingredients:
2 carrots
1-2 stalks of celery
1 apple, preferably Granny Smith
½ -1 whole bunch sorrel
Clean the carrots and remove any green parts. Wash the celery but do not remove the leaves. Cut the apple into 1/8th segments and remove the bitter seed pod. Rinse the sorrel leaves. Run everything through the juicer starting with the carrots. After one or two carrots have been run through the machine put the celery and sorrel through and then alternate carrots and apples until they are gone. Strain the juice through a couple layers of cheesecloth or a fine strainer to remove the pulp that makes it through the juicer screen if desired (this will produce a clear juice devoid of the grittyness, that some people do like).
---
The Healthy Side Of Sorrel
Sorrel, also known by the name Hibiscus Sabdariffa or Roselle, is a member of the hibiscus family. The flowers, fruits, and leaves are all edible, but it is the bright red petals of the flower, called calyces, which is used to make the drink as well as jellies, jams, chutney and syrups.
Disease Prevention
The sorrel plant contains nutraceleuticals, which are said to be helpful to people's health. Nutraceleuticals can help prevent and treat several diseases including diabetes, hypertension, heart disease, and cancer.
Flavonoids, which give the sorrel flower its deep red color, have been recognized as a powerful antioxidant and a likely contributor to cancer health as well as improved immune function. The immune system is also enhanced due to the flavonoids. In addition, sorrel is thought to have a mild diuretic effect and the ability to reduce high blood pressure.
Sorrel contains high amounts of Vitamin C, Vitamin A, magnesium, calcium, and potassium.
The anti-oxidant properties in the sorrel plant can help fight the signs of aging, by protecting against free radical damage that can leave the skin looking aged and wrinkled. Free radicals also have a hand in causing stroke and Alzheimer's disease, along with many other problems.
When used as a dried herb, the leaves of the sorrel plant can be used to treat itchy skin, fever, scurvy, and ringworm. Sorrel can be cut thinly and sprinkled over soups and salads to help relieve these ailments. Even if you don't suffer from these issues, sorrel makes a great addition to a meal. It can be incorporated into meals as a sauce that can go over fish or chicken dishes.
When taken in the form of a tea, this herb is helpful in treating jaundice and kidney stones. The liquid that comes out of the leaves can be used to help certain rashes. When the leaves are consumed dry and fresh, it acts as a diuretic and can clear out the body's system. As a result of this "cleansing the prostate benefits and can work more efficiently. Sorrel has also been used to treat hemorrhages when combined with the seeds and roots of the plant. Sorrel is readily available during Christmas when it is in season. However, the flowers can be dried and made available year round. The drink is typically prepared by boiling the flowers for about 10 minutes (if fresh, the seeds and stems have to be removed), then letting it stand for a couple hours to one or two days, and then pressing out the juice through a strainer.
How long you let the sorrel and its juices stand after boiling, depends on how strong you want it to be once you strain it.
After being sweetened, the juice is normally chilled, but it can also be served hot as well. Such condiments as ginger, cloves, orange rind, and cinnamon stick are often added when the sorrel is boiling, as well as rum afterwards to add flavor and extend the life of the drink. It is also very versatile and can be mixed in cocktails or with other juices.
Sorrel juice is definitely a great and healthy alternative drink.