Sport Cycling at 60 and loving it

Dust off your bicycle, throw it into the trunk of your vehicle and take a trip up to the Arima Municipal Velodrome. Ride a few laps around the track to warm up those muscles and then attempt this mathematics:
Put on a front plate with a chain-ring of 52 teeth and a rear sprocket with 15 teeth and see how quickly you can cover the final 200 metres of the 464m length track. Can you accomplish this in less than 13.5 seconds at an average speed of 55km/hr?
Well then maybe you could rival Ronald Peters, one of Trinidad & Tobago's most respected cyclists and a multiple World, Pan American & National Champion at a series of events ranging from the Match Sprint, Scratch Race, 500m Time Trial and so much more.
Even though his career spans close to five (5) decades and his date of birth lies before 1950, he continues to turn those pedals around faster than most in his age group. Actually, throw him in a race with cyclists 10-20 years his junior and you will sense the hesitation, respect and fear from his competition.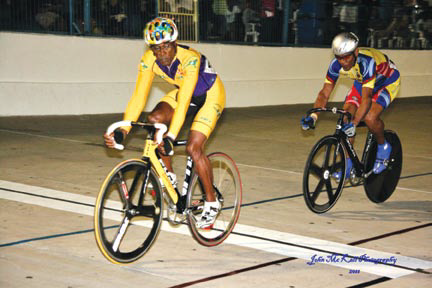 Nicknamed "Strong-back", Peters has overcome the worst of injuries, from the occasional spills during race-day to an horrific accident with a vehicle that broke the Macoya junction traffic light in 1998. Following that tragedy, doctors advised him to stay away from the bicycle for two (2) years, but determined as he was he re-commenced cycling only 6 months subsequent to sustaining a broken leg and hand.
This decision left his physicians perturbed but even worst, his injury was not properly healed hence worsening his existing condition and causing the need for a 9 inch-long steel plate to be placed in his leg. A plate that remains in his leg up to this day.
Ronald comments that witnessing Lance Armstrong overcome a battle with testicular cancer and then returning to the sport in 1999 to take one of the most coveted cycling titles in the world – The Tour de France – encouraged and motivated him even more after his accident. He fought through these setbacks to remain in competitive cycling as one of the hallmarks of local pedal action and the mentor of several aspiring and developing
teenagers.
Since his triumphant return to cycling in 1999 with a new vigor and purpose, Peters has set the standard for both local and international cycling, especially in the Masters category. Sad to say, little recognition has been placed on this gentle giant's successes. He is a two (2) time World
Masters champion when he took gold in the Flying 200m and Scratch race at the 2002 Championships in Canada. He also has a 4th place finish in 2004.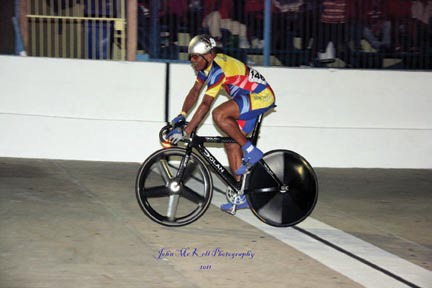 Additionally, during the course of 2004-2010, Peters has grabbed a total of thirty-two (32) medals at the Pan American Masters Cycling
Championships, with nineteen (19) of those being gold; a feat that should never go unnoticed and unpublicized.
His most successful year at the Pan Am Masters came in Barquisimento, Venezuela in the year 2007 when he remarkably snatched eight (8) gold
medals. To prove his true grit and determination, at the 2010 edition in Cuba he battled a bout of food poisoning but still rallied to earn one (1) gold and two (2) silver medals at the games. It goes without saying that his successes at local Championships have been a magnified mirror image of his international feats.
Peters is also the epitome of a loyalist. Just ask Madonna Wheelers, one of the oldest cycling clubs in the country where he has been the hub of the club since he left the Trinidad & Tobago Regiment and its' cycling team in 1969. He comments that one of the major reasons for him being able to maintain such a high standard, other than it being a total love and passion for the sport, is that he hopes to persuade youthsto join the sport after seeing a man
of his age perform with such caliber. Therefore, he hopes to encourage these same youngsters to practice something positive, constructive and fulfilling.
When asked if he would encourage those his age to join the sport even though it may sound as a late arrival, Ronald was all for that idea. He states that he has been inveigling (or at least attempting to inveigle) the 'old guards' to return to the sport as well.
He strives to be a role model, a task he easily accomplishes. Ronald delivered a resounding message at the end of our interview; "Set your goals, once you have them set, create a plan and work towards those goals and you will achieve them."
So next time you hear about a cycling meet, wherever in Trinidad or Tobago you should make your way down. On the track, Peters can easily be identified by his sleek silver helmet, yellow body suit and unique posture on the bicycle. Off the track he can be identified by an amicable personality, a broad smile and always helpful and educational attitude.
Ronald Peters is just a man doing what he loves most and loves most what he is doing.