The Benefits of Sweet Potatoes
The sweet potato is a nutritional
powerhouse.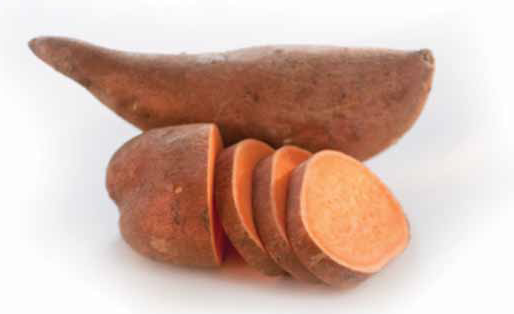 They are high in vitamin B6. Vitamin B6 helps reduce the chemical homocysteine in our bodies. Homocysteine has been linked with degenerative diseases, including the prevention of heart attacks.
They are a good source of vitamin C. While most people know that vitamin C is important to help ward off cold and  flu viruses, few people are aware that this crucial vitamin plays an important role in bone and tooth formation, digestion, and blood cell formation. It helps accelerate wound healing, produces collagen which helps maintain skin's youthful elasticity, and is essential to helping us cope with stress. It even appears to help protect our body against toxins that may be linked to cancer.
They contain Vitamin D which is critical for immune system and overall health at this time of year. Both a vitamin and a hormone, vitamin D is primarily made in our bodies as a result of getting adequate sunlight. You may have heard about seasonal affective disorder (or SAD, as it is also called), which is linked to inadequate sunlight and therefore a Vitamin D deficiency. Vitamin D plays an important role in our energy levels, moods, and helps to build healthy bones, heart, nerves, skin, and teeth, and it
supports the thyroid gland.
Sweet potatoes contain iron. Most people are aware that we need the mineral iron to have adequate energy, but iron plays other important roles in our body, including red and white blood cell production, resistance to stress, proper immune functioning, and the metabolizing of protein, among other things.
Sweet potatoes are a good source of magnesium, which is the relaxation and anti-stress mineral. Magnesium is necessary for healthy artery, blood, bone, heart, muscle, and nerve function, yet experts estimate that approximately 80 percent of the population in North America may be deficient in this important mineral.
A healthier sweet potato casserole recipe will be a welcome addition to your dinner. Resist smothering your sweet potatoes in loads of butter and sugar and try these healthy sweet potato recipes instead! Baked sweet potatoes are delicious topped with a warm black bean salad. Or slice up some sweet potatoes to make sweet potato fries.
---
CURRIED SWEET POTATOES
INGREDIENTS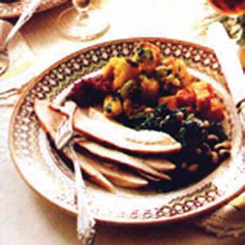 4 1/2 pounds sweet potatoes, (8 or 9 medium), peeled and cut into 1-inch pieces
1 teaspoon salt, plus more to taste
1 cup dried apricots, (3 ounces),cut into 1/4-inch slivers
1/2 cup raisins
1 cup boiling water
1 tablespoon canola oil
1 onion, finely chopped
2 teaspoons curry powder
Freshly ground pepper, to taste
PREPARATION
Place sweet potatoes in a large pot and add enough cold water to cover by 1 inch. Add 1 teaspoon salt and bring to a boil over high heat. Reduce heat to medium and cook,  , until tender but not mushy, 8 to 12 minutes. Drain well.
Meanwhile, combine apricots, raisins and boiling water in a small bowl; let sit until plumped, about 10 minutes.
Heat oil in a large wide pot over medium-high heat. Add onion and cook, stirring often, until softened, about 2 minutes. Add curry powder and cook, stirring, until fragrant, about 2 minutes. Add the cooked sweet
potatoes, apricots, raisins and the fruit-soaking liquid. Season with salt and pepper. Stir gently over medium-low heat until warmed through.
---
MASHED SWEET POTATOES WITH COCONUT MILK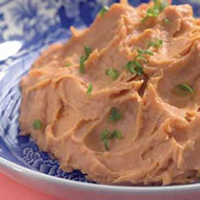 INGREDIENTS
1 1/2 pounds sweet potatoes, (about 3 medium)
3/4 cup "lite" coconut milk
1 tablespoon minced fresh ginger
1/2 teaspoon salt
PREPARATION
Prick sweet potatoes with a fork in several places. Microwave on High until tender all the way to the center, 10 to 15 minutes. (Alternatively, place in a baking dish and bake at 425 degrees F until tender all the way to the center, about 1 hour.)
When cool enough to handle, peel off and discard skin. Transfer the sweet potatoes to a medium microwaveable bowl and mash thoroughly with a potato masher. Add coconut milk, ginger and salt; stir well. Reheat in the microwave for 1 to 2 minutes, or in the oven for 8 to 10 minutes. Serve warm.
---
OVEN SWEET POTATO FRIES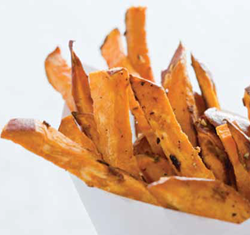 INGREDIENTS
1 large sweet potato, peeled and cut into
wedges
2 teaspoons canola oil
1/4 teaspoon salt
Pinch of cayenne pepper
PREPARATION
Preheat oven to 450°F. Toss sweet potato wedges with oil, salt and pepper. Spread the wedges out on a rimmed baking sheet. Bake until browned and tender, turning once, about 20 minutes total.
---
SWEET POTATO CASSEROLE
INGREDIENTS
2 1/2 pounds sweet potatoes, (3 medium), peeled and
cut into 2-inch chunks
2 large eggs
1 tablespoon canola oil
1 tablespoon honey
1/2 cup low-fat milk
2 teaspoons freshly grated orange zest
1 teaspoon vanilla extract
1/2 teaspoon salt
TOPPING
1/2 cup whole-wheat flour
1/3 cup packed brown sugar
4 teaspoons frozen orange juice concentrate
1 tablespoon canola oil
1 tablespoon butter, melted
1/2 cup chopped pecans
Place sweet potatoes in a large saucepan and cover with water. Bring to a boil. Cover and cook over medium heat until tender, 10 to 15 minutes. Drain well and return to the pan. Mash with a potato masher. Measure out 3 cups. (Reserve any extra for another use.)
Preheat oven to 350°F. Coat an 8-inch-square (or similar 2-quart) baking dish with cooking spray.
Whisk eggs, oil and honey in a medium bowl. Add mashed sweet potato and mix well. Stir in milk, orange zest, vanilla and salt. Spread the mixture in the prepared baking dish.
To prepare topping: Mix flour, brown sugar, orange juice concentrate, oil and butter in a small bowl. Blend with a fork or your fingertips until crumbly. Stir in pecans. Sprinkle over the casserole.
Bake the casserole until heated through and the top is lightly browned, 35 to 45 minutes.