TTARP Centenarian
Irene Brizan, born on the 28th April 1912 celebrated 100 years of her birth.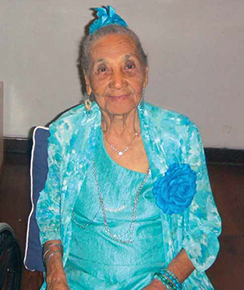 The Brizan family celebrated her birthday in fine style with family and friends at a luncheon at the Normandie Hotel, St. Ann's.
There were approximately 50 persons in attendance from the various organisation she belongs – example TTARP, Retired Nurses Association, Government Pensioner Association just to mentioned a few.
Mrs. Brizan entertained her well-wishers by singing her favourite song "One Day at a Time" and she also did a special song set in German. After hearing her lovely voice, this multi –talented vibrant and charismatic lady then proceeded to teach her guests some dance moves.
TTARP congrats Irene on reaching this major milestone, and we wish her continued good health and God's richest blessings .