Doris Zulaika Khan
Yoga begins at 60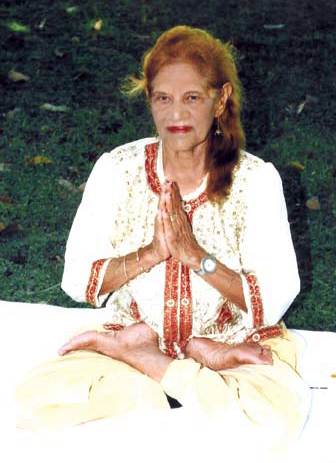 At almost 90, Doris Zulaika Khan is active, bright, alert, full of smiles and loaded with good advice as she walks into TTARP's office.
One can only look and admire this lady as her eyes spark as she spoke of a life full of joy and happiness with her husband of almost three scores and ten, former Senior
Magistrate Nazrudeen Khan. They have travelled the world together and are inseparable. Doris firmly believes that will and determination, love and forgiveness, and devotion to Allah are the most important aspects of her life.
Doris was introduced to yoga at age 60, and has been nationally recognized for her ability to stand on her head up until a few years ago, when her doctors advised
against it. At age 80, she was still able to do the yoga mudra which is a posture most twenty year olds would find difficult. Her love for yoga encouraged her to teach others the benefits of practicing it, and she is convinced that it is responsible for her calm nature and inner peace.
Doris believes that everyone, especially women should partake in some form of yoga, since it builds you spiritually, emotionally and physically.