Rupert Dolsingh
Transcending Boundaries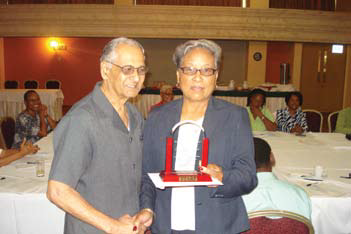 Rupert Dolsingh has successfully traversed every aspect of life – love, marriage, family, religion, business, country and travel.
At the ripened age of 85, his quiet demeanour and welcoming exterior exude a deep and uncluttered understanding of life, human potential and associated
challenges.
"It's all about the ability to get along with people of all walks of life. To have a friendly, positive outlook and a sympathetic approach to all matters facing you," is how Dolsingh sums up his life's experiences thus far.
Born at Fullerton Village, Cedros , in 1925, Dolsingh attended the Lochmaben R.C. School and then went on to Naparima College, San Fernando. Even though he made full use of those early school years, which landed him a job as a sales clerk in the accounts department of the now defunct R.J. Shannon & Company (Trinidad) Limited (Agent for NCR Corporation ), Dolsingh still harboured a yearning for more knowledge.
He went on to attend various professional and academic programmes, which assisted him greatly in climbing the corporate ladder. These include Dale Carneige's "Effective Speaking, Leadership Training and Human Relations;" "Business Administration and Personnel Management" from the University of the West Indies (UWI), St Augustine and an N.C.R. Management Seminar from the N.C. R World Headquarters in Dayton, Ohio, USA.
Armed with this new knowledge, Dolsingh subsequently made his way up the ranks of the company to Office Manager, Administrative Manager and finally to R. J. Shannon's Board of Directors – first as a director, then later as Managing Director. "I was always ready to assist any member of staff to improve their knowledge of the business and I constantly sought new ways and means of providing better and more convenient working conditions for them," said Dolsingh, who assisted in growing that company from five employees to more than 200, with sub offices throughout the Eastern Caribbean and Guianas. His new portfolios ushered with them his world travels to visit other factories within the N.C. R group. "As part of my duties, I was required to visit other factories. On several occasions I visited the Dayton and Toronto factories and made a tour of the London Office, the Dundee factory and offices in Holland, Germany, Switzerland, Paris and New York," said Dolsingh, who made quite a favourable impression upon the N.C.R people he met on his journeys.
It was this ability of making favourable impressions that also caught the eyes of his future wife, Monica Ali from St James. After their first encounter the feeling was instantly mutual, but Ali was mindful of her Muslim upbringing and how would she fit in with this prospective suitor, a Hindu.
But as time passed, their love for each other transcended religion. Monica, the Muslim girl from St James and Rupert, the Hindu boy from Cedros, both enjoyed a simple, loving courtship, and were married on December 17, 1949. Two years into the union, they would again exchange vows, but this time as converts to Catholicism in a Christian ceremony. The fruits of that marriage brought forth two children, Michael and Karen, and later on three grandchildren.
Even with all his business travels, family was always a priority for Rupert, who remembers the loving, close relationship he enjoyed with his family. "Monica and I would always share at least one meal together every day when I was at home and not travelling," recalls Dolsingh.
On his retirement in January 1981, after a dedicated, hard-working and successful 40 year tour-of-duty in the business world, Dolsingh could not simply curl up, so he established his own company – Rupert Dolsingh Business Services in May 1984, mainly to liquidate RJ Shannon & Co. and the West India Club.
While this new business venture took up most of his time, Dolsingh still found opportunities to share his expertise and business acumen with various organisations in capacities as the President of the Trinidad and Tobago Business Association; member of the Trinidad Chamber of Industry and Commerce; Member and Associate member of the Port-of-Spain Junior Chamber and Director of The Royal Bank Trust 19 Company Limited.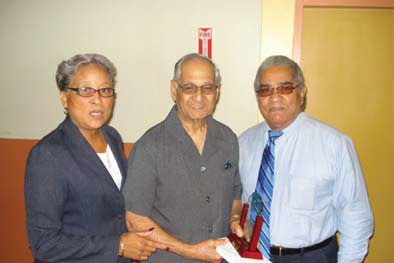 Other organisations in which he has served prominently include the Rotary Club of Central Port-of- Spain; Trinidad and Tobago society for the Prevention of Cruelty to Animals (TSPCA) and he is a past member of the Royal Commonwealth Society, England. His involvement with the Rotary Club allowed for his attendance at many international conventions including Canada, France and Australia. In 1995 he was awarded the Paul Harris Fellow for his outstanding work with the organisation and was made an Honorary Member in 2003. He cites one of his greatest accomplishments to date as being a founding member of TTARP in 1993 and part of first Executive Team.
"TTARP is a strong voice for the over 50 age group lobbying Government for lower taxes, more security, more health care protection, better pension benefits and more response from government for mature citizens," said Dolsingh, adding that the Association keeps growing stronger over the years Dolsingh credits all his accomplishments to integrity, sound judgment and the many years of support from his wife (now deceased).
"She (Monica) understood the art of maintaining harmony in the household. We never quarrelled in front of the children and she knew when to choose her battles and when to give in," said Dolsingh, adding that sometimes he would come home irritable and she would know when to keep the children away and give him some time to settle down. "I wasn't always easy you know," he quipped.